ข่าวประจำวันที่ 2021-04-08 12:17:44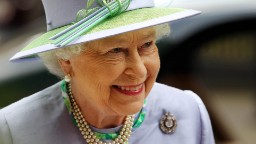 Father: King George VI
Mother: Queen Elizabeth
Children: Edward, Earl of Wessex (March 10, 1964); Andrew, Duke of York (February 19, 1960); Anne, Princess Royal (August 15, 1950); Charles, Prince of Wales (November 14, 1948)
Great-Grandchildren: By Zara Phillips Tindall: Mia Grace, Lena Elizabeth and Lucas Philip; By Prince William: George Alexander Louis, Charlotte Elizabeth Diana and Louis Arthur Charles; By Peter Phillips: Savannah and Isla; By Prince Harry: Archie Harrison Mountbatten-Windsor; By Princess Eugenie: August Philip Hawke Brooksbank
Other Facts
She is named after her mother Queen Elizabeth, her paternal great-grandmother Queen Alexandra and her paternal grandmother Queen Mary.
She was not declared the heir apparent when her uncle, King Edward VIII, abdicated because of the possibility of a male heir.
Timeline
May 29, 1926 – Princess Elizabeth Alexandra Mary, third in line to the throne, is christened. She is the first royal child to be christened in the chapel at Buckingham Palace and wears a gown made of lace worn by Queen Elizabeth I.
December 11, 1936 – Elizabeth becomes heir presumptive when her father becomes King George VI, after the abdication of his brother King Edward VIII.
May 12, 1937 – Elizabeth attends the coronation of her parents, King George VI and Queen Consort Elizabeth. She is the first female heir presumptive to see her parents crowned.
1939 – World War II breaks out. Elizabeth moves, with her sister, to the Royal Lodge at Windsor Castle. This is thought to be the time period when Elizabeth meets Prince Philip of Greece.
1942 – King George VI makes Elizabeth an honorary colonel in the Grenadier Guards, a regiment of the British Army.
April 21, 1942 – Elizabeth makes her official public debut with a review of 500 members of the Grenadier Guards at Windsor Palace.
1944 – Elizabeth is made a member of the Privy Council and the Council of State. She is now able to act for the king during his absence from the country.
July 10, 1947 – King George VI and Queen Elizabeth announce Elizabeth's engagement to Prince Philip of Greece, a lieutenant in the British Navy.
November 20, 1947 – Princess Elizabeth marries Philip. After becoming a British citizen and renouncing his Greek title, Philip becomes His Royal Highness Prince Philip, Duke of Edinburgh. Elizabeth becomes the Duchess of Edinburgh.
February 6, 1952 – King George VI dies of lung cancer, and Elizabeth ascends to the throne.
June 2, 1953 – Coronation takes place at Westminster Abbey.
May 14, 1965 – Queen Elizabeth II dedicates a memorial and one acre of land at Runnymede to the United States as a memorial to President John F. Kennedy.
June 13, 1981 – A teenager, Marcus Simon Sarjeant, fires six blanks at the Queen while she is riding on horseback through London. He is arrested and charged with treason.
July 9, 1982 – A man gets past security at Buckingham Palace and encounters the Queen in her bedroom.
May 16, 1991 – The Queen addresses a joint session of the US Congress, the first British monarch to do so.
November 24, 1992 – At a luncheon commemorating her 40th anniversary on the throne, the Queen declares 1992 as an "Annus Horribilis." That year marked the separation of the Duke and Duchess of York, the divorce of Princess Anne and Mark Phillips, the increasing estrangement of the Prince and Princess of Wales, and a fire at Windsor Castle.
April 1993 – Taxation of the Queen and Prince Charles goes into effect with the provision that they may "opt-out" of the agreement at any time after April 1994.
August 1993 – Buckingham Palace is opened to the public for the first time. Money raised from the tours is to help pay for the restoration of Windsor Castle.
December 1995 – After heavy media coverage of the estrangement and affairs of Prince Charles and Diana, Princess of Wales, the Queen urges them to divorce.
1997 – Addresses the nation via live television to express grief over the death of Princess Diana.
1998 – Endorses a plan to end gender discrimination in the line of succession for the throne.
2002 – The Queen celebrates her Golden Jubilee, or 50th anniversary, on the throne.
July 6, 2010 – Addresses the General Assembly of the United Nations for the second time.
May 17, 2011 – Makes the first state visit to the Republic of Ireland by a British monarch.
February 6-June 5, 2012 – Celebrations take place throughout the United Kingdom and the Commonwealth for the Queen's Diamond Jubilee, or 60th anniversary, on the throne. Festivities include a 1,000-boat flotilla along the River Thames and a concert at Buckingham Palace.
November 20, 2012 – The Queen and Prince Philip celebrate their 65th wedding anniversary.
December 18, 2012 – Queen Elizabeth II attends a cabinet meeting at 10 Downing St, marking the end of the celebration of her Diamond Jubilee. It is the first time a British monarch has attended a cabinet meeting in more than 100 years.
March 3-4, 2013 – Is admitted to King Edward VII's Hospital after experiencing symptoms of gastroenteritis. She is released the following day.
April 8, 2014 – The Queen hosts a state dinner for Ireland's president Michael D. Higgins and his wife Sabina. Also in attendance are actors Daniel Day-Lewis and Dame Judi Dench. Martin McGuinness, former IRA commander and current Northern Ireland's Deputy First Minister, also attends.
September 9, 2015 – Becomes the longest reigning monarch in British history.
1. The Prince of Wales, Prince Charles, son of Queen Elizabeth II (1948)
2. The Duke of Cambridge, Prince William, son of Prince Charles (1982)
3. Prince George of Cambridge, son of Prince William (2013)
4. Princess Charlotte of Cambridge, daughter of Prince William (2015)
5. Prince Louis of Cambridge, son of Prince William (2018)
6. The Duke of Sussex, Prince Harry, son of Prince Charles (1984)
7. Archie Mountbatten-Windsor, son of Prince Harry (2019)
8. The Duke of York, Prince Andrew, son of Queen Elizabeth II (1960)
9. Princess Beatrice of York, daughter of Prince Andrew (1988)
10. Princess Eugenie of York, daughter of Prince Andrew (1990)

ที่มาของข่าว
#comeoninc #cmon #cmoninth
Join our list
Subscribe to our mailing list and get interesting stuff and updates to your email inbox.
Powered by Best Social Sharing Plugin for WordPress Easy Social Shre Buttons